Fort Ebey State Park
Booking an April camping trip in Pacific Northwest is more or less a gamble, especially since most nice campsites are all gone months before the trip. But we lucked out – our first trip in 2022 was blessed with lovely weather and breathtaking views.
Arrived at the campsite around 5:30pm Friday afternoon. I took the trail next to the campsite and went straight to the bluff to see the ocean before sunset. I was pleasantly surprised by the spectacular view from WWII Gun Battery at the cliff. With the right amount of sunlight, the calm, shallow water at the beach has a light shade of turquoise; a few yards above that, the yellow wildflowers on cliffs were in full bloom.
It was Friday, so there weren't many day-trip visitors; I only saw less than 10 people in the park before I walked back to our Airstream. Area-wise, Fort Ebey is a pretty big state park, but it's got less than 50 campsites; many are pull-through sites.
The day ended with a cozy campfire. Last year I learned an easy trick to warm up the cold LED ceiling lights in our Airstream. Looks nice, doesn't it?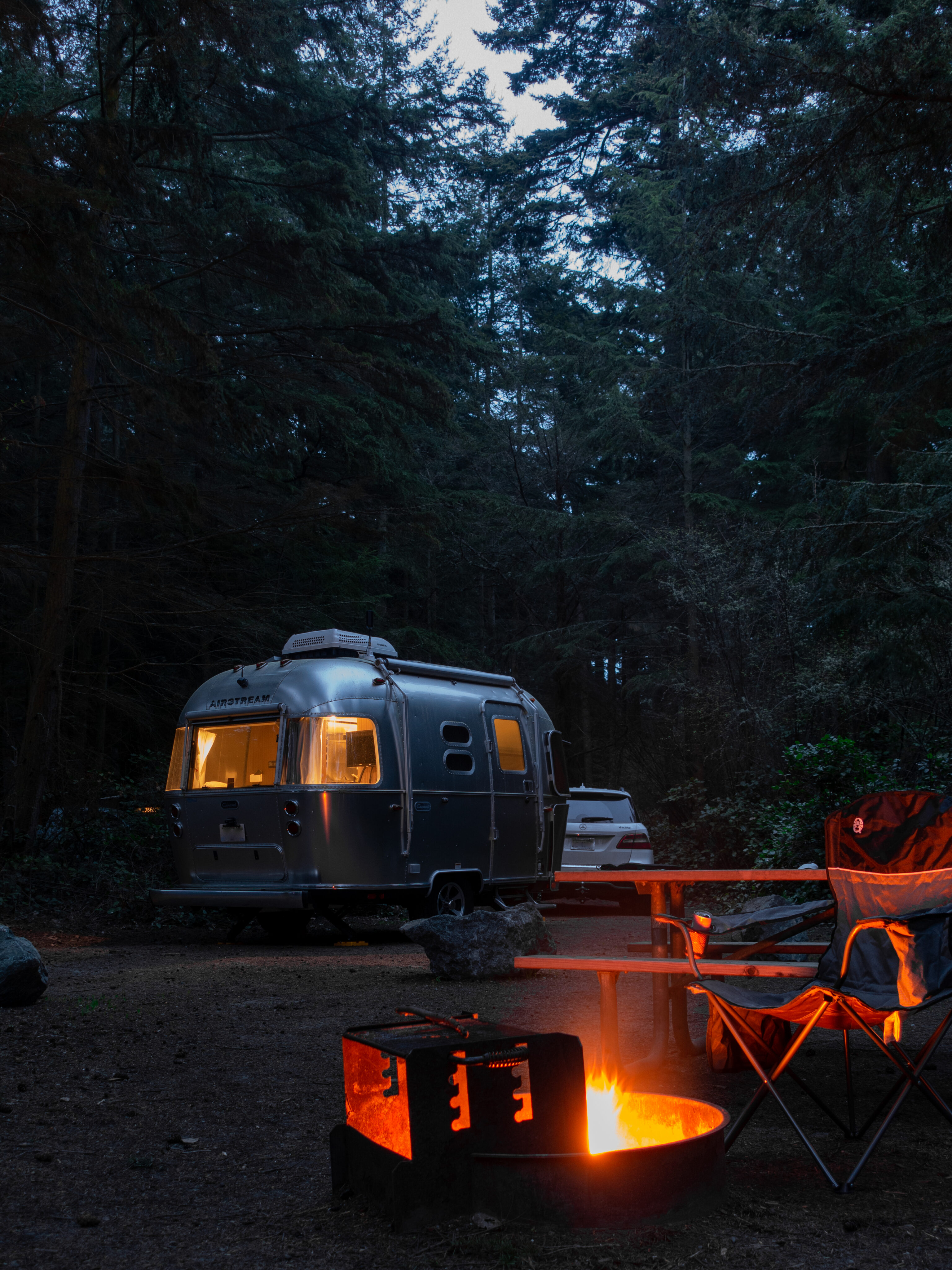 The next morning after breakfast and coffee, We started hiking the Bluff Trail north from Gun Battery. It's a short, easy hike with very moderate elevation gain. The ocean-facing slope below Gun Battery is very popular among paragliders and model glider flyers. Even at 8am, there were 2 paragliders launched from the slope.
The trail reaches a small park with beach access; I was very impressed with the many ocean-view picnic tables & grills in the shades. We will definitely come back and have lunch here if we can get a campsite in the summer.
The trail ended at a tranquil little lake just a couple of minutes' walk from the park. I sat by the lake for a good half hour with no one in sight, enjoying the breezes that carried the sound of the ocean.
Ebey's Landing State Park
Ebey's landing is another state park just south of Fort Ebey. Besides some historical points of interest, it offers a 5-mile trail overlooking majestic Puget Sound almost in its entirety. The view was breathtaking. To get to the trailhead, I drove from Fort Ebey for about 12 minutes to the trailhead at the parking lot. The 8 miles roundtrip was an easy hike as there wasn't much climbing after the gentle ascending at the trailhead.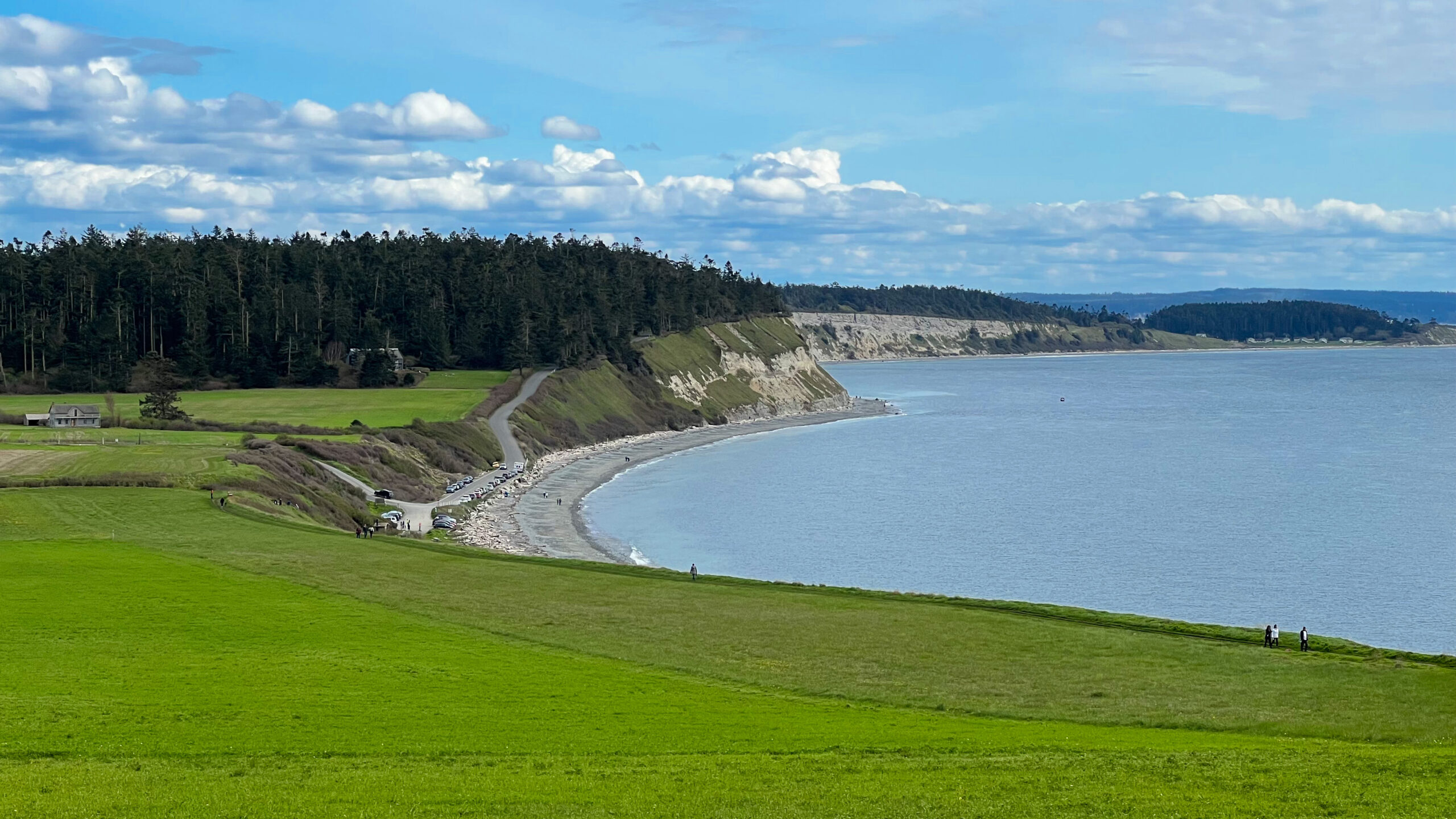 Close to the trail's end, it zigzags and descents to the beach, and you walk back between driftwoods and ocean waves.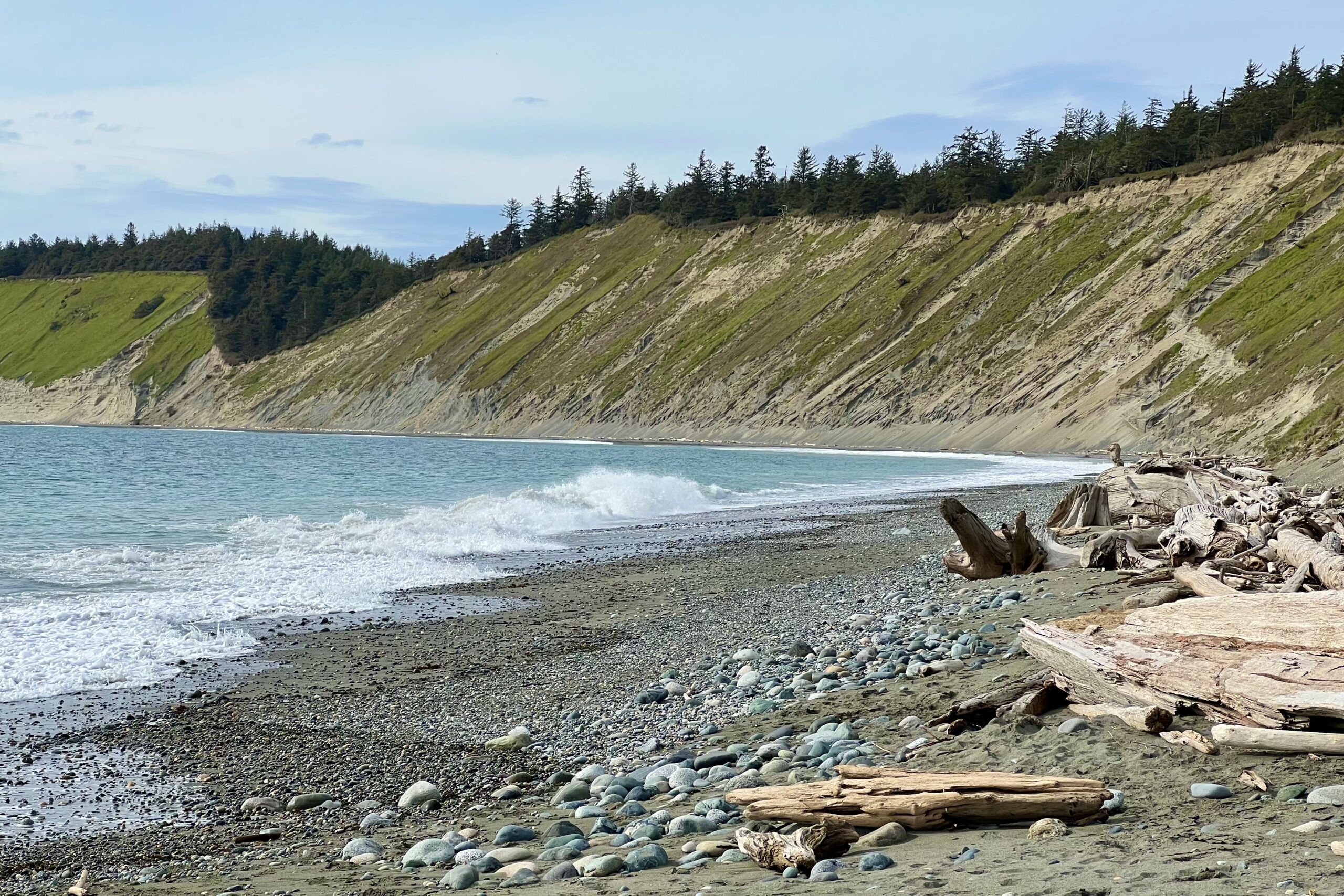 It's been a decade since our last Fort Ebey visit, and this was the first time I visited Ebey's landing. Since we started camping in our delightful little Airstream, we have had wonderful new experiences every time we visit Whidbey Island.
We will be back soon!