Big TV in a Small Trailer
In this post I want to show you a 60″ (actually 62″) TV setup I have been enjoying for over a year, and as counter-intuitive as it sounds, I think our 16′ Bambi/Caravels is the best Airstream to fit a big TV.
I have watched the stock TV exactly once, on my dealership parking lot, the night I took delivery – just to try things out and make sure they all work as expected.  I don't watch much cable TV – and that stock 24″ TV is just too small to enjoy a movie on it – it's already very small, and if you take out the wide screen content letter box space, it's even smaller.
So I had a few goals in mind when I started the project for watching movies
I want the screen size to be reasonably big, ideally 60″ or bigger.
Reasonable good picture quality – I am not expecting LG OLED that we all drool over at Costco entrance, but it needs to be 4K capable or at least 1080p.
Setup and takedown need to be easy and quick, to be used on daily basis.
Can not take too much space in the trailer.
Can not block traffic in the trailer.
First I ruled out LCD/LED/OLED TVs – at 60″ they are heavy and fragile, not really for mobile use. That left projector TV to be the only option. This is when I started to realized my 16′ Caravel is a very good fit – the ambient light control is excellent.
After some investigation I found the best place to mount the screen is in front of the door, this will not block any inside traffic, and I can watch movies either sit with dinette table up or lounge with table down, and I can mount the projector between the front and galley overhead cabinets.
The Screen
This is what I came up with, the screen itself is a white, blackout roller shade I ordered from amazon, I replaced 2 end caps of the rail with custom ones I designed and 3D printed.
Screen viewing/parking positions
The left side end cap (A) is a 'fork' that can be pushed to snap onto a pivoting support(B), which allow the retracted screen to swing 90-degree, from its viewing position to parking position.
The right side end cap is a 'tab' with a simple spring that can snap into a support bracket mounted on bathroom wall in viewing position.
Or another support bracket mounted under the front cabinet in parking position. With this setup, I can easily move the screen from parking to viewing position in a couple of seconds.
At campground, when I am not using the projector TV, the screen is moved to parking position. I barely notice it.
Screen storage
When there is no plan to use it or during travel, the screen is stored behind the closet door using similar pivot support and a bracket.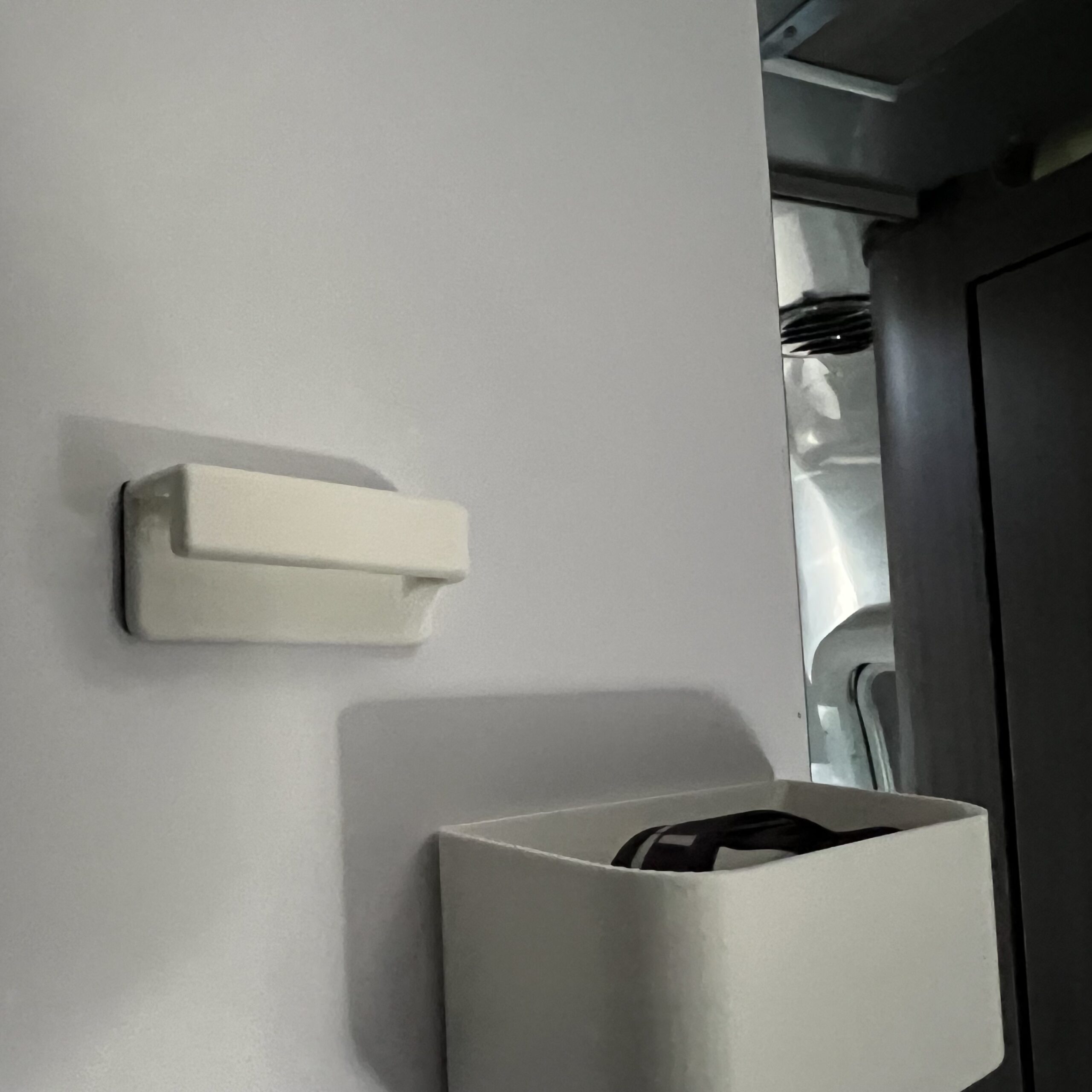 All brackets/supporting pieces are mounted to cabinet/wall using 3M VHB 5952 tape. The only exception was the closet door lower support, I added a screw.
Projector
The projector I use is this one
This is the best compact projector I can find as of April 2021 – picture quality is excellent when you feed it with HD content (4k or 1080p), it's powered by Google's Android TV so you can run apps like Amazon Prime Video, Apple TV, HBO, Netflix, Hulu, etc. Android TV also has built-in ChromeCast support so you can project anything in your laptop chrome browser.
Projector Mount
It's mounted onto the side of galley cabinet using 5×3 shelf bracket (https://amzn.to/3BsViT0) and a camera ball mount with quick release like this one (https://amzn.to/3qK05e7).  The ball mount allows me to point the projector precisely to the center of the screen, I only do this once then tighten the screw. With the quick release I can remove/mount very quickly without recalibrate the position. I remove the projector and store it in the cabinet right next to it during travel as I don't think the projector mounting screw receiving end is built strong enough to withstand shaking/bumping during travel, even it can, I don't want the smoke from cooking to stick to the lens. Mounting it is super easy and quick thanks to the quick release plate receiver on ball mount.
Power Wiring
The projector has a very decent built-in speaker, so it only need standard DC power cable, I run its power adapter from the outlet inside the front overhead cabinet to the projector.
Audio wiring (optional)
My Caravel came with a subwoofer so I also run a audio cable(Aux to 3mm) from stock amplifier to the projector. The bass it produces is really nice for action movies. But for most content the built-in speaker is more than good enough.
The best Airstream for Projectors?
Yes! first all modern Airstreams are 8 feet wide, so bigger Airstreams doesn't give more viewer distance, unless screen is mounted perpendicular – it would almost certainly block traffic inside trailer, and finding support for the screen can be difficult as well. Also the ambient light control – we love airstreams for their big windows and bright interior, but for a projector TV, that means you have to close curtains/shades on all windows, that's a lot of work for a big Airstream! All the pictures I used in this post was taken at noon, by the way.